Monday, March 8, 2010
11:39 AM |
Posted by Heidi |
|
Edit Post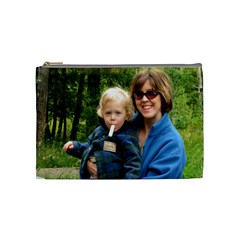 I think this is a fabulous deal because I have two of these makeup bags and I know how absolutely adorable they are. And how adorable my mother and mother-in-law thought they were. And how adorable the cashier thought they were. And how even my brother-in-law unsolicitedly mentioned after he saw one lying on the bathroom counter that they were "pretty cute." They're a very versatile size, too. I use one for cash and coins, one for coupons, and one for makeup. These bags are surprisingly sturdy, well-lined, and come with one small zippered inner pocket for storing smaller items like jewelry or coins. And did I mention cute? I plan to buy more for gifts.
Now through March 16 (technically the coupon says the 17, but Artscow's coupons seem to expire at 12:01 am on the listed expiration date),
Artscow
is offering 3 medium customized makeup bags for 8.00
shipped.
That's 8 bucks for
all three.
If you want this deal, do this:
Go to Artscow.com.
Search for "custom cosmetic bag" and choose the medium-sized one.

Customize three and add them to your cart, or customize one and add three of it to your cart.
Check out using coupon code 38COSBAG.
Enjoy! Try not to look too smug as people ooh and aah over what original and personalized gifts you give.

PYP Forums State Forums Coupons 101 Register Contact PYP on Facebook Real Mom Kitchen blog
Welcome to PYP - The BEST source for original grocery deals and information. We don't just recirculate second-hand deals from around the blogosphere - PYP is where it all starts! We have oodles of insider info, fabulous deals, ROCKIN' forums, and comprehensive shopping lists created by volunteers and staff. Look around and see what we have for you!